Thanksgiving by Trader Joe's
Throughout the years, I have had Thanksgiving plans go up in flames either because I was working, suffering from the flu or was caring for a sick child who was unable to go to Grandma's house. Sometimes we would postpone our family Thanksgiving until we could all get together on the following Saturday, but then when Thanksgiving Thursday came, I felt like I was missing out. If your plans fall through or you are unable to prepare an entire Thanksgiving meal for one reason or another, I have good news for you. I decided to see if I could find a complete, ready-made Thanksgiving dinner for four from one store and I was successful! Hello, Trader Joe's!
At Trader Joe's, I found all the ready-made components of a traditional Thanksgiving meal: turkey, gravy, cornbread stuffing, cranberry sauce (relish), mashed potatoes, sweet potatoes, roasted veggies, rolls and pumpkin pie. I was able to heat everything in the oven and have it on the table in one hour! You can reduce the time by microwaving, but I chose the oven method for heating all of the items because I enjoy the lingering fragrance of Thanksgiving cooking in the kitchen. The cost of all the items listed totaled $61.21
The turkey is a fully cooked, brined, Bone-In Half Turkey Breast with Garlic Herb Butter, $6.99 per pound. It took about 45 minutes to heat in a 375 oven. The turkey was moist and flavorful which is not easily accomplished with breast meat (at least when I am cooking). It is a little pricey, but if you don't have the time or desire to brine a turkey for 36 hours ahead of time ( I used to do that), then this turkey is for you. It is stored in the frig.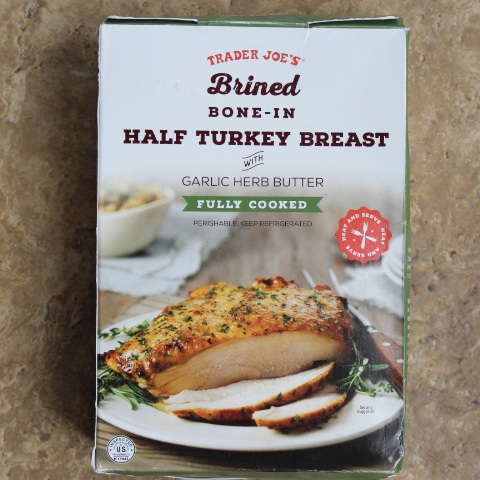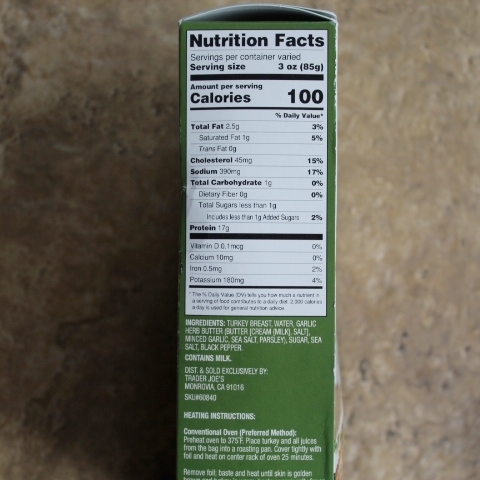 Cornbread Stuffing with Roasted Apples and Savory Mushrooms, $4.99. I found the stuffing to be quite savory and "herbaceous." If you enjoy a very savory stuffing with a variety of herbs, then you will enjoy this stuffing. It is vegetarian too! It takes 18-22 minutes in a 375 oven. It is stored in the frig.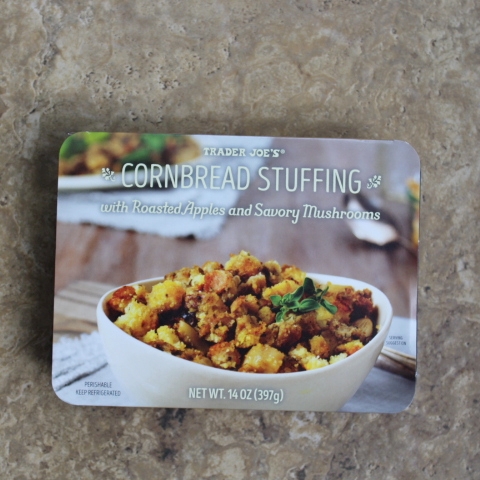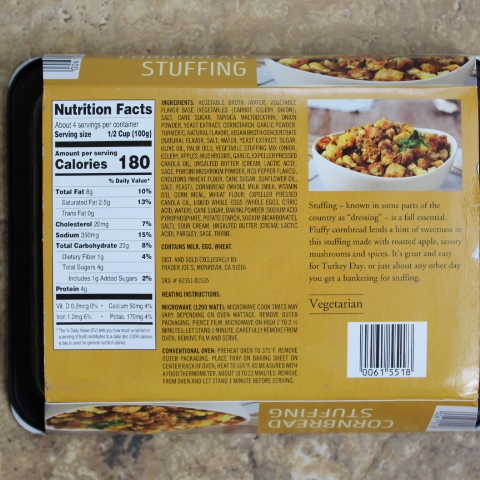 Maple Roasted Sweet Potatoes, $4.49. These sweet potatoes are cubed and bathed with a delicious maple glaze. Pecans and dried cranberries compliment the dish perfectly. Sorry, no marshmallows or....great, no marshmallows depending on your opinion about marshmallows with sweet potatoes. They heated in the oven for 15 minutes at 350. It is stored in the frig.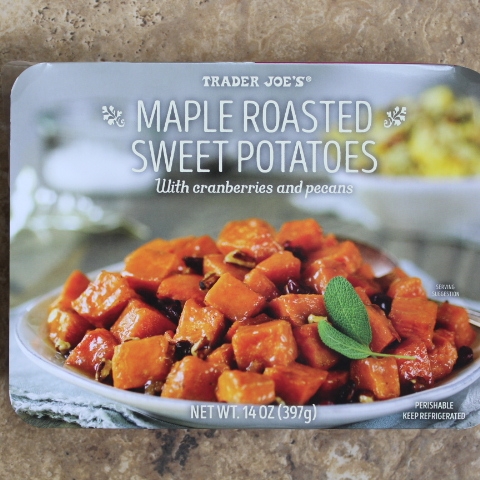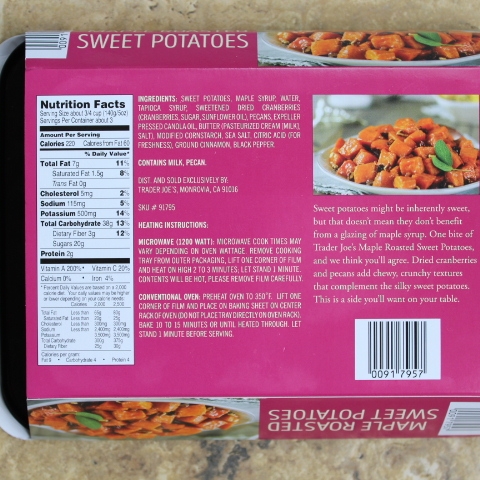 Roasted Vegetables, $4.99. I love the medley of vegetables: zucchini, yellow squash, sweet potatoes, shredded brussels sprouts, red bell peppers, potatoes and red onions. The veggies are perfectly roasted and when you heat them up, they are delightfully tender but firm and have a light dressing of garlic and herbs. They heat in about 17 minutes at 350. It is stored in the frig. Note: There are other sides available like Carrot Souffle and Corn Pudding, but no green bean casserole! It is stored in the frig.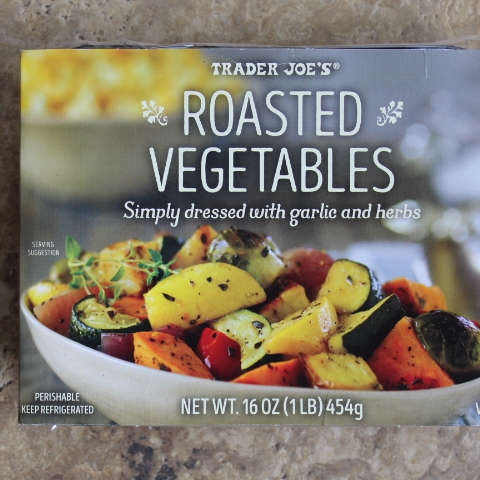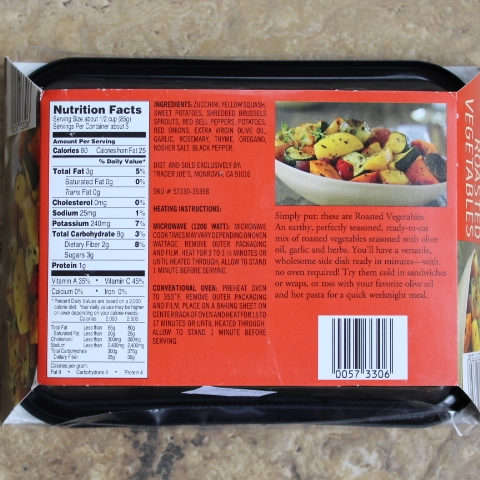 Mashed Potatoes, $2.49. I have reviewed these potato medallions in a previous post with Trader Joe's Meatloaf. Just add milk or cream and some butter and no one will know that you haven't been peeling, chopping and mashing all day. I heat mine on the stove top for about 10 minutes. The bag of medallions is stored in the freezer.
Turkey Gravy, $1.49. I am not a gravy person, but this gravy will certainly satisfy those who like gravy. It is heat and serve which is much easier than doing the packet of gravy with the boiling water trick. That stirring constantly never worked for me! I heated this gravy on the stove top for about 5 minutes. It stores in the pantry, but needs to go in the frig once it is opened.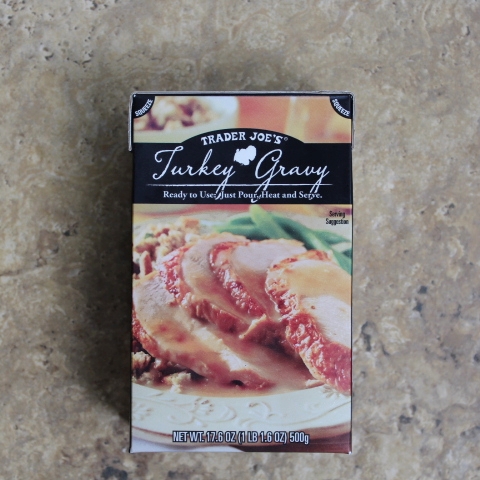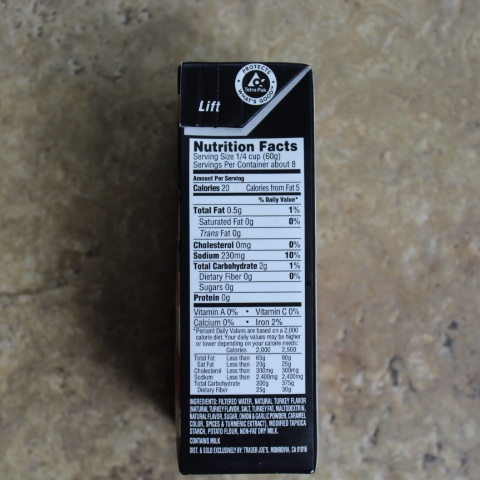 Cranberry Orange Relish, $3.49. This is a fresh cranberry relish with tangy orange added. They also offer one without the added orange. It has a nice consistency, not thick or too jelly like at all. It stores in the frig.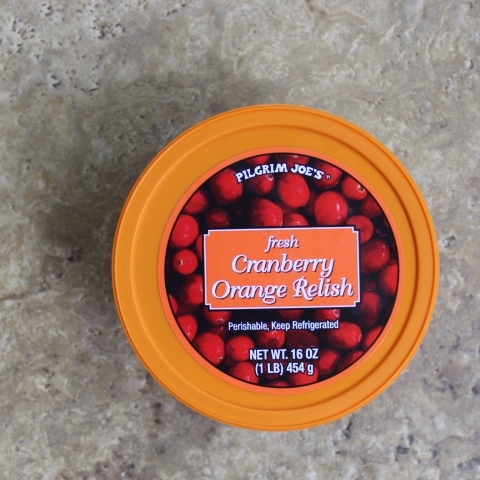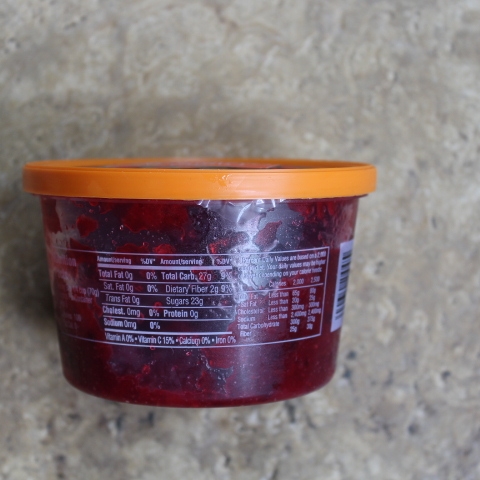 Sweet Pull-Apart Aloha Rolls, $2.99 for a package of 12. These are soft, sweet rolls similar to the popular King's Hawaiian rolls. They heated nicely in a 350 oven for 5 minutes. They are stored in the pantry.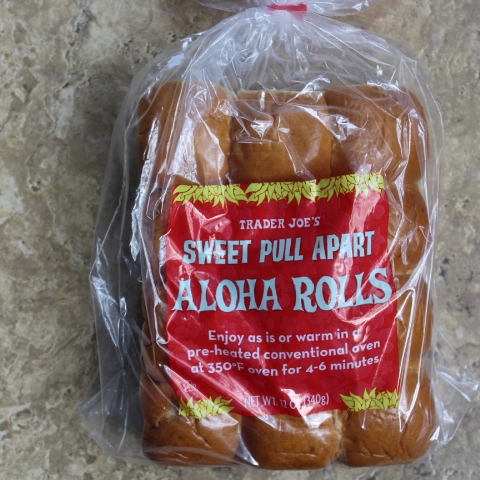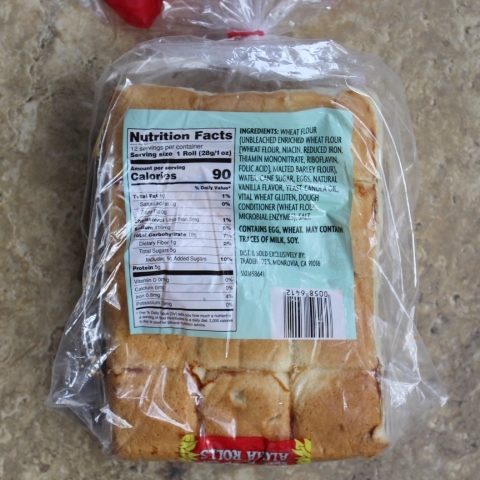 Pumpkin Pie, $4.99. I was very skeptical about trying this because my mom used to make the best pumpkin chiffon pie and I was worried that I would not be objective. I have to say that this pie is delicious! It is not dense and compact which turns me off most pumpkin pies except my mom's. I found this one to be surprisingly light with a perfect blend of cinnamon and spices. I thawed it at room temperature for two hours and then served it, but you can heat it up in the oven for 15-20 minutes at 350 if you wish. It stores in the freezer.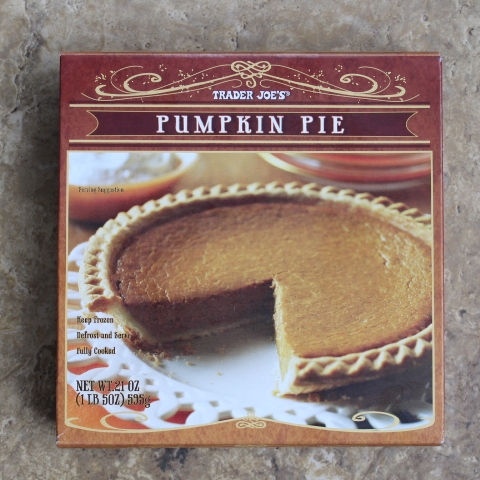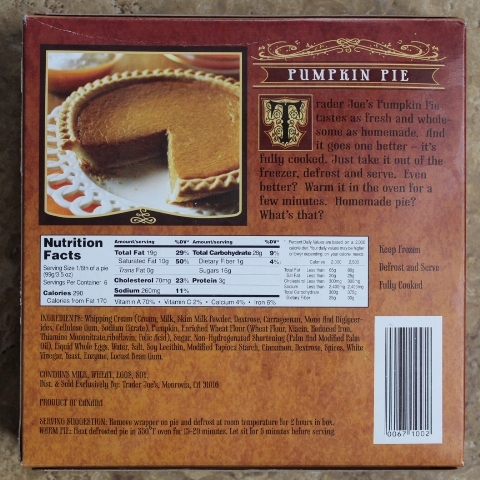 Bouquet of Flowers, $9.99. A nice assortment of fall flowers with flower food to make the table happy.
So, if you are working on Thanksgiving, staying home with a sick family member who can't travel or if you just don't feel like cooking, give this ready-made Thanksgiving meal from Trader Joe's a try. Go bold and get all the items or purchase a few to compliment your family's favorites! They have other side's available and a nice selection of wine if you would like to enjoy some with your meal. Happy Thanksgiving!